Please contact education@cwa-union.org and provide your name, title, and local or affiliation with CWA to get the password to access training materials.
Steward Participant Workbook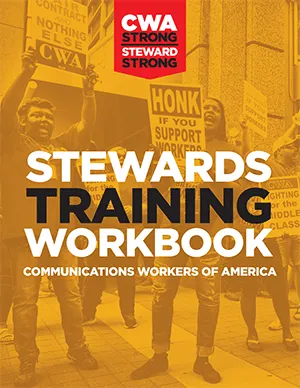 View the Steward Participant Workbook
Steward Resource Manual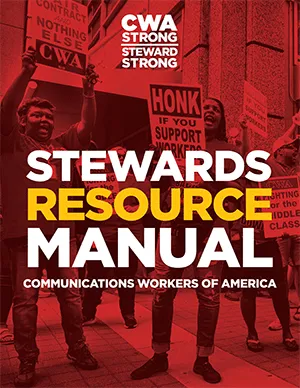 View the Steward Resource Manual
Chapter 1. Roles of CWA Stewards
1. The Union Difference: Building Power in the Workplace
2. Who is CWA? Our Union Values, Past and Present
3. The CWA Triangle
4. CWA Union Dues
5. CWA Stewards: The Heart of Our Union
6. Understanding Workplace Power: What Difference do Stewards Make? 
Chapter 2. Exercising Your Legal Rights.
1. The Law and the Power You Hold
2. Sources of Stewards' Legal Rights
3. Duty of Fair Representation: Fairness and Equity
4. Rights to Organize, Educate, Agitate
5. Rights to Represent Co-Workers and Enforce the Contract
6. Rights to Information
7. Weingarten Rights
8. Other Legal Rights to Know About
Chapter 3. Role of Stewards in the Struggle for Our Future
1. Corporate Strategies for Maximizing Power and Money
2. When We Fight, We Fin!
3. We've Seen Corporate America's Agenda. What's CWA's Agenda?
4. Building Our Political Voice
Chapter 4. Educating and Organizing Your Co-Workers
1. What Do Your Co-Workers Need to Learn from their Union Steward?
2. What Do Stewards Need to Learn from their Co-Workers?
3. The "Tools of Organizing": Lists and Charts
4. One-on-One Organizing Conversations
5. Responding to Common Misconceptions about the Union
6. First Impressions Matter! Talking with New Employees
Chapter 5. Learning Your Contract
1. Our Contracts Represent the Power We Have
2. Why Union Contracts Matter
3. Learning the Contract
Chapter 6. Investigating Workplace Problems
1. Assessing Workplace Problems
2. Steps in Investigating a Problem
3. Statement of Occurrence/Incident Report
4. Gathering All the Facts
5. Conducting Interviews
6. The Importance of Taking Notes
7. Requesting Documents from Management
8. Deciding on Next Steps
Chapter 7. Mobilizing Members to Solve Workplace Problems
1. Case Studies: Mobilizing to Solve Workplace Problems
2. Why We Wear Red
3. When is A Problem an Opportunity to Mobilize?
4. Creating a Mobilization Program
5. Start Small, then Turn Up the Pressure! Taking Escalating Action
6. More Union Building Actions
Chapter 8. Handling Grievances to Address Workplace Problems
1. Your Contractual Grievance Process and Timelines
2. What is a Grievance? 
3. Seven Tests of Just Cause
4. Keeping a Grievance File
5. Writing Grievances: Three Easy Steps
6. Preparing to Meet with Management
7. Presenting Your Grievance to Management
Chapter 9. Understanding Arbitration 
1. Arbitration Basics for Stewards
2. Arbitration Standards
3. Past Practice
4. Common Non-Disciplinary Grievance Issues
5. Common Disciplinary Grievance Issues
Stewards Glossary